The Robert Scott Bell Show
NEW TIME - Weekdays, 3pm–5pm EST
Each weekday on the NaturalNews Radio Network, Robert Scott Bell hosts the fastest two hours of healing information on radio, dealing with everyday health issues from the perspective of alternative/holistic health care. Robert Scott Bell tackles the tough issues and shows no fear when confronting government and corporate bullies who would stand in the way of health freedom.
Browse the Robert Scott Bell Show Archive »
Linderman Unleashed
Weekdays, 2pm–3pm EST
Linderman Unleashed will bring you informative and insightful commentary on politics, autism, vaccines, GMOs, agriculture, natural living, organics, homeopathy, pharma and much more in a blue collar, no nonsense way that will be appreciated by most and hated by some.
Browse the Linderman Unleashed Archive »
Extreme Health Radio
New show every Monday and Thursday
Join your host, Justin for Extreme Health Radio on Monday and Thursday as he explores alternative healing strategies and cutting edge protocols for experiencing the best health possible with the worlds leading experts in health and well being. This show focuses on taking personal responsibility for our health and equips you with practical strategies for health and longevity.
Browse the Extreme Health Radio Archive »
Homegrown Health
New show every Wednesday
Joni Cox has combined her love for radio and natural health here on Natural News to bring you Homegrown Health, a weekly radio show that pertains to everything "family".
Browse the Homegrown Health Archive »
Prescriptions for Health
New show every Friday
Prescriptions for Health is a live call-in talk show featuring Dr. Len Saputo and Registered Nurse, Vicki Saputo. Dr. Len's tirades and Nurse Vicki's humor make an interesting husband-wife combination in presenting the latest cutting edge mainstream and complementary and alternative medicine news.
Browse the Prescriptions for Health Archive »
Know Your Rights Hour
New show every Wednesday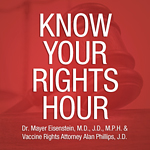 Dr. Mayer Eisenstein, M.D., J.D., M.P.H. and Vaccine Rights Attorney Alan Phillips, J.D. discuss your questions and concerns about vaccines, medical politics and your personal rights.
Browse the Know Your Rights Hour Archive »
Mental Health Exposed
New show every Wednesday, 5pm–6pm EST
Join Mike Bundrant and guests as they reveal strategies for achieving natural mental health and expose incompetence and fraud in the mental health and personal development industries. Hear interviews with authors and leaders who buck mainstream trends and offer listeners an education that cannot be found anywhere else.
Browse the Mental Health Exposed Archive »
The Pursuit of Freedom
Wednesdays, 6pm–7pm EST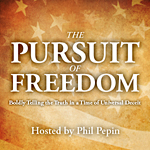 Every Wednesday, host Phil Pepin blends historic facts, current events and insightful interviews to help prepare liberty loving patriots to take back their freedom and restore our great Republic. The show focuses on offering effective solutions not just identifying problems. The most information packed hour long show on radio.
Browse the Pursuit of Freedom Archive »
Survival and Beyond with Ed Corcoran
New show every Wednesday, 7pm–9pm EST
On Survival and Beyond, editor and co-founder of Survivalist Magazine; Ed Corcoran, covers all the vital topics to help people get prepared and survive in just about any situation. He also goes one step beyond, by examining the reasons why we should all be prepared. Exposing the truth and revealing the threats to our liberty, freedom and way of life that you won't hear about from the "mainstream" media.
Browse the Survival and Beyond Archive »
The Dr. Mitch Show
Live show every Tuesday and Thursday, 7pm–9pm EST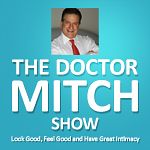 Dr. Mitch has authored or co-authored four textbooks for physicians and written dozens of articles. The President of the largest anti-aging organization in the world of 23,000 doctors in over 110 countries states that Dr. Mitch is one of the top 20 clinicians in the world. Hundreds of Physicians call Dr. Mitch for advice about their patients and receive training on topics of Integrative/Alternative Medicine.
Browse the Dr. Mitch Show Archive »
The Doom and Bloom Hour
New show every Monday, 8pm–9pm EST
On the Doom and Bloom Hour, Nurse Amy, aka Amy Alton, A.R.N.P and Dr. Bones aka Joseph Alton, M.D., provide insight into the world of preparedness and self reliance. Our journey is updated every week with our successes and mistakes, so you can learn along with us. We will have interesting guests share their expertise and knowledge to help you become more prepared.
Browse the Doom and Bloom Hour Archive »
Tenther Radio with Michael Boldin
New show every Wednesday, 9pm–10pm EST
TRX: Tenther Radio is the leading advocate for liberty through localism and decentralization. Using the Constitution and the Founding Generation as a guide, Michael Boldin and guest hosts welcome weekly guests to discuss the important issues of the day.
Browse the Tenther Radio Archive »
The Health Ranger Report
Join the Health Ranger for news, interviews, satire and commentary on natural health, wellness, nutrition and the dangers of corporate and conventional medicine.